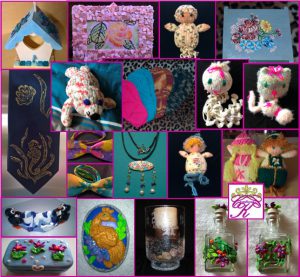 Hi Everybody,
I am so glad you stopped by. I wanted to welcome you to my design website and blog. You will find a lot of projects I designed and handmade from a variety of materials: silver, brass, glass, leather, polymer clay, yarn, silk, soap, and much more.
Writing this blog gives me the opportunity to share with you my passion for Arts and Crafts. I will let you in on my techniques, my struggles – yes, they do happen, my mishaps – oh, yes, I am not perfect and things sometimes go wrong 🙂 and my achievements.
Frequently I will add new pictures and once in a while a free tutorial for you to enjoy.
So I hope you hang around and feel free to comment and ask questions.
Enjoy!
Karin